Chelsea Manning, currently in a maximum security prison in Kansas, is awarded the Blueprint for Free Speech prize
Fuente: Chelsea Manning wins free speech award: 'It's easy to feel invisible' – video | US news | The Guardian
En 2010, el ejército estadounidense detuvo a una de sus analistas de inteligencia por filtrar documentos clasificados sobre las guerras de Irak y Afganistán a Wikileaks; hoy cumple una condena de 35 años de prisión. "Me llevaron a un solitario agujero negro de confinamiento. Dos semanas después empecé a pensar en suicidarme", recuerda.
Fuente: Mis nueve meses en régimen de aislamiento fueron una tortura "sin contacto"
Is there any evidence of a link between violent video games and murder? | Pete Etchells and Chris Chambers | Science | theguardian.com.
Journalists need to stop repeating baseless claims and scientists need to stop bickering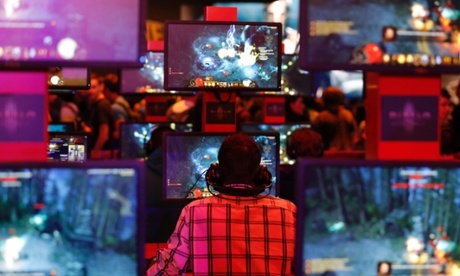 In the wake of the killing of the schoolteacher Ann Maguire last week, the question has again been raised of whether playing violent video games could lead someone to commit murder. It's a common link that we see suggested in the media whenever tragedies of this sort occur, but the scientific evidence simply doesn't support these claims.
The most recent data that we have on the links between video game use and aggressive behavioural outcomes comes from a meta-analysis, published in the Personality and Social Psychology Bulletin in January 2014. Researchers from the University of Innsbruck looked at 98 studies, testing nearly 37,000 participants since 2009. They found that, overall, video games do affect the social behaviour of players – violent video game use is linked to an increase in aggressive outcomes and a decrease in prosocial outcomes. On the other hand prosocial games show the opposite effect – they're linked to a reduction in aggressive behaviour and an increase in prosocial, cooperative behaviour.
At first glance these findings might suggest that there is something to the suggestion that violent videogames encourage acts of violence, but the link is actually quite tenuous. Psychological studies on aggression and video games tend to rely on measures of aggression that are a far cry from murder. For example, one experimental test that's often used is a modified version of the Taylor Competitive Reaction Time Task. Here the participants are first asked to play either a violent or non-violent video game. Afterwards, they're asked to play a reaction time game against another, fictional player. If they win a particular encounter, they get to blast their opponent with a loud noise. The key manipulation is that the participants choose how loud the noise is, and how long it lasts for. Longer, louder noises are taken as a measure of increased aggression.