Violent video games research: consensus or confusion? | Pete Etchells & Chris Chambers | Science | theguardian.com.
A new paper arguing that there is consensus that violent video games cause aggression highlights the pitfalls of peer review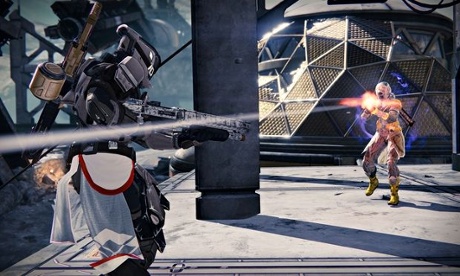 It seems like a simple question to ask, but it is one that is apparently very difficult to answer: what are the effects of violent media on our behaviour? It's also a question that regularly produces heated debates, both in scientific journals and in the mainstream news. However, a new study published this week in the Psychology of Popular Media Culture (PPMC) argues that there shouldn't be a debate at all. Instead, they claim to have found a "consensus" among media researchers, paediatricians and parents, that violent media can cause aggression in children.
The study, by Brad Bushman and Carlos Cruz at Ohio State University, and Mario Gollwitzer at Philipps University Marburg, asked participants to complete an online survey asking them how much they agree with the statement "violent X can increase aggressive behaviour in children", where X included a number of different types of media, ranging from comic books and literature to movies and video games. They were also asked the extent to which they agree with two other statements: one asking whether there is a causal relationship between exposure to violent media and aggression, and another asking whether media violence is a factor in real life violence.
According to Bushman and his team, the results pointed to a broad consensus that exposure to media violence had a negative effect on children. In a related press release, Bushman states that they "found the overwhelming majority of media researchers, parents and paediatricians agree that violent media is harmful to children."
What consensus?
We don't think the data are anywhere near as clear-cut as Bushman and colleagues make out. Let's take the statement "there is a causal relationship between exposure to violent media and aggression". Here are the results for the four groups of people: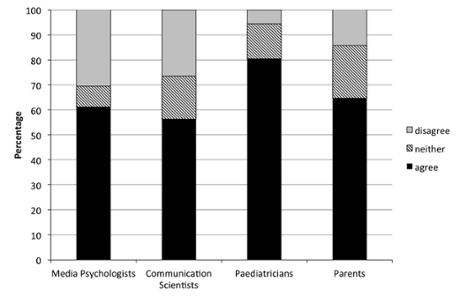 As you can see, of the researchers that are potentially active in this area, 61% of media psychologists and 56% of communication scientists agree or strongly agree with that statement. Averaging across all four groups of people, 66% agree with the statement, whereas 19% don't, and 15% are on the fence. As Meatloaf would no doubt agree, two out of three ain't bad, but it is hardly a "consensus".